A Holistic Approach to Gun Violence Prevention
Our gun violence prevention model offers an integrated approach to supporting the highest-risk individuals in our communities.
Our Integrated Approach
Gun Violence Prevention Demands A Targeted, Integrated Approach
Nearly 75% of gun violence takes place in just 20 of the 77 neighborhoods in Chicago.
That's why we've created a targeted gun violence prevention model—based on what's worked elsewhere—to reduce gun violence and serve the individuals and communities most at risk.
Street Outreach
Engaging directly with men and women who are most likely to shoot or be shot, we focus on violence interruption, conflict resolution, and proactive peace building.
Therapy
Our participants need to heal from lives impacted by gun violence before moving forward. We start that process with trauma care, group counseling, and 1:1 care.
Life Coaching
Framing new perspectives, new goals, and a first chance at a different life is key to giving our men and women hope and purpose as they heal from the trauma of gun violence.
Education
Many men and women at high-risk for gun violence benefit from earning a GED and gaining academic support to move into vocational roles.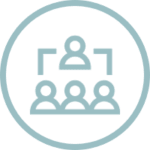 Job Training
To ease the transition from the streets to the legal economy, we facilitate training, internships, and the development of soft skills..
Each of these pillars is critical to our gun violence prevention model
Nothing happens in isolation. Only when integrated into a holistic model can we enact change.
"I Knew 3 People Who Died in November"
"[My cousin] got shot two days before my prom. That was in May [2019]. Then, he
passed away in November. Then in November, November 2nd or 3rd, two people I knew
got killed on the same day on two different shootings. My cousin died three days after
that, and that was all in November."
CRED Participant
Comprehensive Interventions
Giving Our Communities the Tools to Change the Story
CRED participants need access to all the pieces of our gun violence prevention model to end the cycle of violence. Embedded in our five pillars are these critical components.
Violence Interruption
Conflict Resolution
Peace Building
Trauma Counseling
Job Training
One-on-One Coaching
Education
Legal Support
Skill Development
Policy Movement
Out-of-Town Trips
Chicago CRED program "a success"
"I can sit here and talk to guys. We can share our stories and come to solutions, like, 'Man, we went through this.' Then, you got therapy. You can sit there and just express yourself. You ain't got nobody judging you. That's why I be, like, it's a success. It's no judging."
CRED Participant
of Chicago CRED participants are African American men residing in the Roseland, West Pullman, and North Lawndale neighborhoods
of CRED participants are considered to be at high-risk of gun violence involvement
of CRED participants previously suffered a gunshot injury or assault
Reduce Gun Violence by 20% Annually for the Next 5 Years
We're putting our gun violence prevention model to work now with a goal of reducing gun violence by 80% in five years, putting Chicago on par with other major cities.
Disrupting the Dynamics that Drive Shootings in Chicago
To reach our goal of reducing gun violence, the Policy & Strategy team is addressing the bigger picture and working to change systems to better serve communities suffering from the toll of gun violence. Transformative peace for all of Chicago requires us to go beyond working directly with the young men and women at the highest risk of violence involvement. 
A Radical Reduction in gun Violence is Within Reach
We're making strides to reduce gun violence and give high-risk individuals an alternative future. Let's build a safer future together.